Opportunities with
B2B Multishops
Your customers love great service. They love feeling seen and getting help and recommendations that have been tailored to them. Indeed, they might even like it if the whole store was built just for them. So you only had the items they needed. So you had exactly the service they needed: The right delivery, competitive prices and perfect company colours. That would be the ultimate service, but it also sounds expensive and cumbersome. Fortunately, it doesn't have to be. You see, you should be building multishops.
A multishop solution is an online shop you can divide up however you want. You have one unified solution where all your products and features are built in, but you also have the option to customise the user experience for each individual customer. This means you can choose exactly which part of your offering to present to each customer. You can customise the range, delivery options, logo printing and more for each of your customers. This allows you to offer exceptional service quickly and easily.
There are many good reasons to build multishops. First and foremost because customers love them, but the benefits go beyond just customer satisfaction. We have listed some of the benefits you can achieve with a multishop solution below.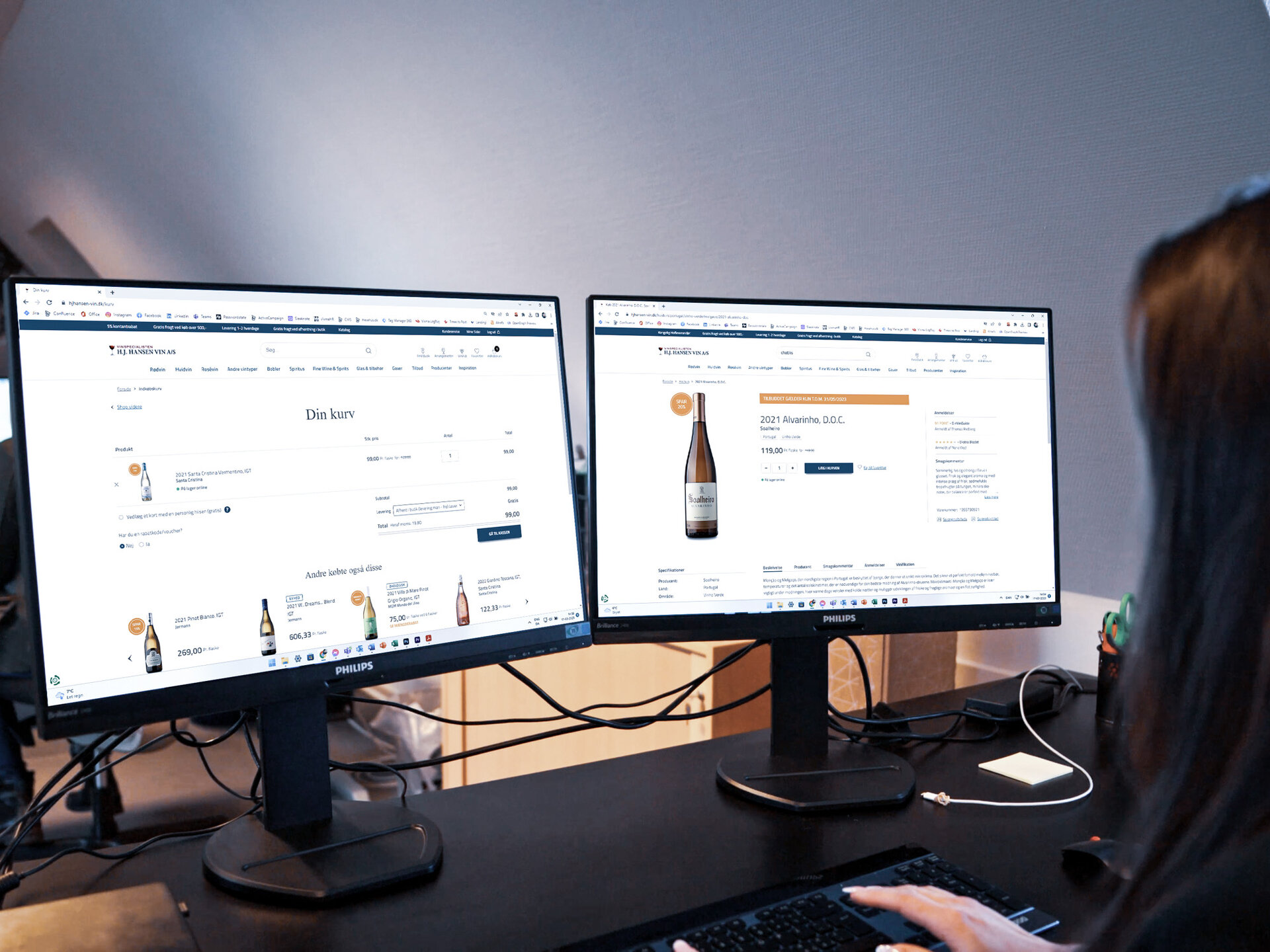 Option 1: Create an overview for customers
Not all of your customers are equally interested in every product in your range. Some buy item x, some buy item y. But in a normal webshop, both items x and y are available to everyone, and items z, c, v and sigma are also there. Navigating the shop can quickly become confusing and difficult. Especially when it comes to B2B, where products can be complex and, for example, different spare parts can be difficult to tell apart. Therefore, you can narrow down the range to suit each individual customer. This makes it easier for customers to find their way around your store, which means they save time on procurement.
Option 2: Gain a competitive edge and retain customers
Multishops are a way to stand out from your competitors. If you work in a field where there is competition for your products, you will typically be in a fierce price war with your competitors. Multishops are a meaningful way of offering your customers added value with your products because you have a simpler shopping solution for them. If you customise a shop for each customer, where they can quickly and easily buy exactly what they need, they can save a lot of administration time and money by doing business with you. It should be faster and easier to buy and repurchase from you than from your competitors. What's more, once customers have grown to love your solution, they'll find it very difficult to switch to a supplier that can't deliver the same level of digital convenience.
Want to read about a specific multishop solution with over 400 different customers? Then read about how Fristads makes it easy to buy workwear.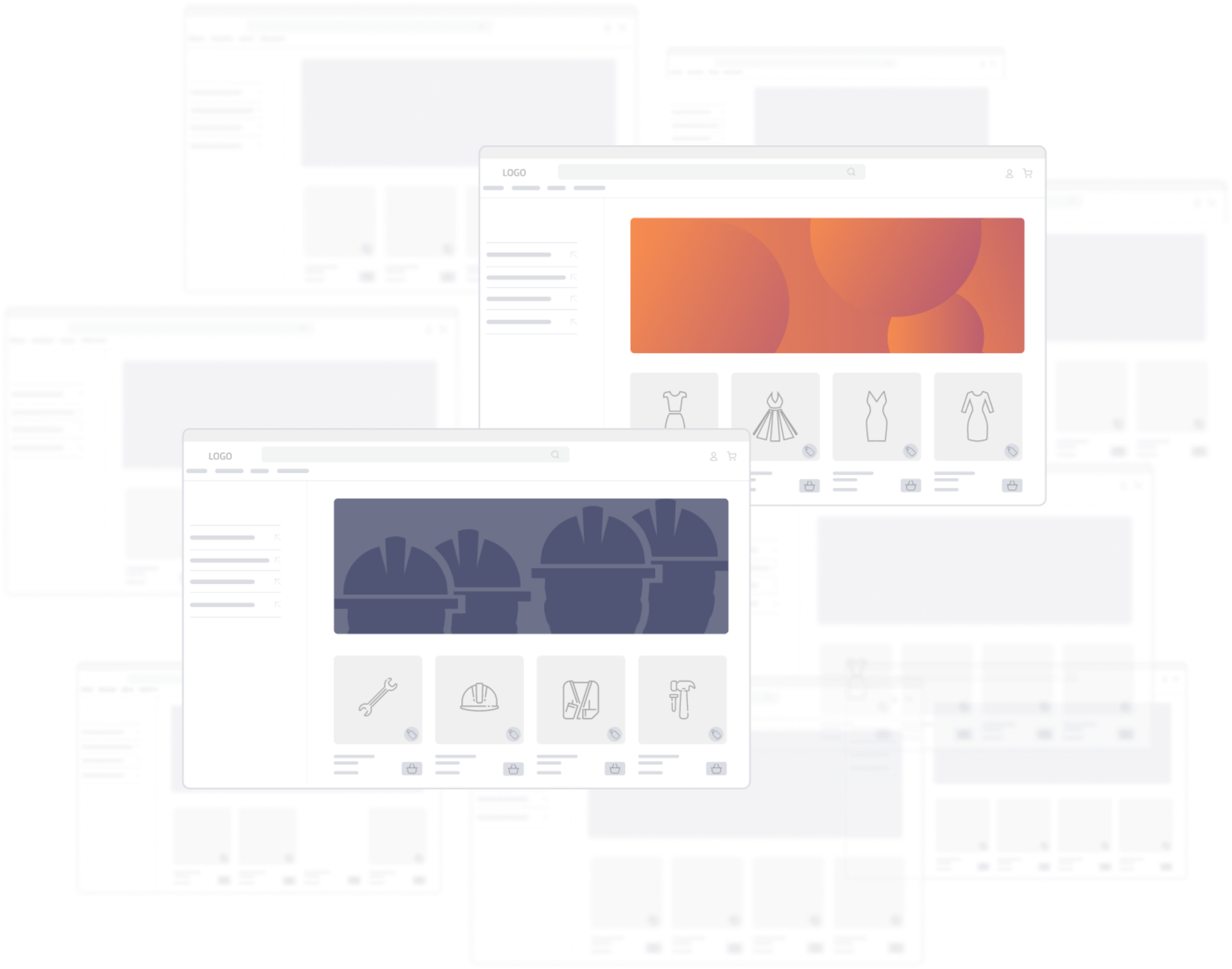 Option 3: Create a personalised experience
Multishops enable you to manage all the details of a customer's buying journey. The way companies make purchases can vary greatly, depending on how they are organised. Some prefer that individual employees are given a budget to purchase the items they need, while other companies employ buyers who handle this centrally. Regardless of how customers prefer to buy from you, you can easily set up rights management in your shop to match customer needs. You can also customise the buying experience by branding the webshop with customer logos and ensuring that all relevant products have images with printed logos. This strengthens the customer's perception that you support their business, their goals and their vision.
Option 4: Get bigger orders from bigger customers
In the largest organisations, procurement is such a big task that they don't want to partner with suppliers who can't offer very simple solutions. They need the administration and time cost of procurement to be as low as possible. That's why multishops are a great option for larger customers because they get everything they need behind a single login. In some cases, a shop won't be enough for the largest customers, as they want to use a purchasing or procurement system to get the goods home. Here, you can combine your multishop with a PunchOut solution to give the customer exactly what they want.
Option 5: Manage your multibrand strategy with ease
Your customers aren't the only ones who benefit from multishops. You can benefit too if you have several different brands. You can also use the same tools that enable you to create multishops to create different branded shops. This allows you to share system architecture across a larger organisation and unify the way you work with product data, campaigns and customer journeys. In other words, you have an opportunity to optimise your workflows across brands. This can make it easy to follow a multibrand strategy where, for example, after an acquisition, you choose to let the two companies continue under separate brands visually, but use the same infrastructure.
How much does it take to get started with multishops?
That depends on how strong your digital foundation is, as it typically needs to be purpose-built. It requires an investment in the right systems and system architecture, but once in place, it's quick to create and customise the format for new customers. Bizzkit is designed to be flexible and built to handle many shops and brands. This means that creating different product offerings for different shops is easy, which makes your shop scalable. Among the things that make it so easy are the flexibility of product hierarchies in Bizzkit PIM and segmentation in Bizzkit CMS. In addition, by first and foremost being based on open APIs that make it easy to integrate with different ERP systems, Bizzkit has been designed to make it easy to integrate new shops for customers.
Questions?




Our team is ready to help