Hot or not in delivery and returns
BOPUS, drop shipping, click-and-collect, same day and next day delivery, free shipping and returns, drone deliveries, pick-up points… Delivery and return concepts are among the main customer touchpoints which retailers and e-traders are constantly working on to develop and improve. They are concepts that are significantly helping to improve competitiveness and retail conversion rates, but which also challenge earning capacity.
Innovation and new ways of thinking are needed
Many consumers still prefer to shop in physical stores, partly because they can take the product home with them immediately, but also because they can get assistance from sales staff and, thirdly, because they can feel the products and try them on.

​​​​​​​These are challenges which e-traders are striving to overcome by incorporating new technologies and devising concepts that will make it even more attractive to shop online, including being able to meet consumers' expectations of cheap or free shipping and returns, quick and flexible delivery and easy returns and exchanges.
Give your delivery and returns a competitive advantage
While consumers may demand speedy delivery in certain cases, in reality it is being able to choose between different delivery methods that fit with the consumer's everyday routine and personality that is the most important parameter.
Retailers and e-traders, as well as their technology partners, therefore expend a lot of effort on developing new solutions that improve competitiveness, help reduce some of the 'hassle' for their customers or optimise the logistical and economic challenges that arise in the wake of growing customer demands.

​​​​​​​Below is a selection of the delivery and returns concepts that are already popular or well on the way to becoming so.
BORIS, BOPIS, click-and-collect
Buy-online-return-in-store (BORIS). Buy-online-pickup-in-store (BOPIS), also called click-and-collect. These are delivery and return concepts that continue to provide a strong advantage to online stores that are attached to a chain of physical stores.

Around 61% of consumers attach importance to being able to return or pick up a product in a physical store. The art is to make this into a positive experience. At Glossier in New York (the image on the left) the customer does not need to wait in line by the till to pick up goods they have ordered online – a special delivery point has been established by the entrance. At Nordstrom in New York (the image on the right) it has been made extremely easy to return a product: the customer need only scan the return label and deliver the package.
If the online store is not attached to a physical store, the use of pick-up points and parcel shops is very common, as many customers still prefer to pick up the parcel at a time that suits them, and also because they experience a more secure delivery generally.

Pick-up points with a fitting room where the consumer can try the product on there and then and return it if desired are an expansion of the online shopping experience that is gradually being introduced. One example of this is Leveriet in Sweden.

Easy pickup at Glossier and easy return at Nordstrom
Why do online shoppers prefer click-and-collect?
Source, iVend Retail, Feb. 2019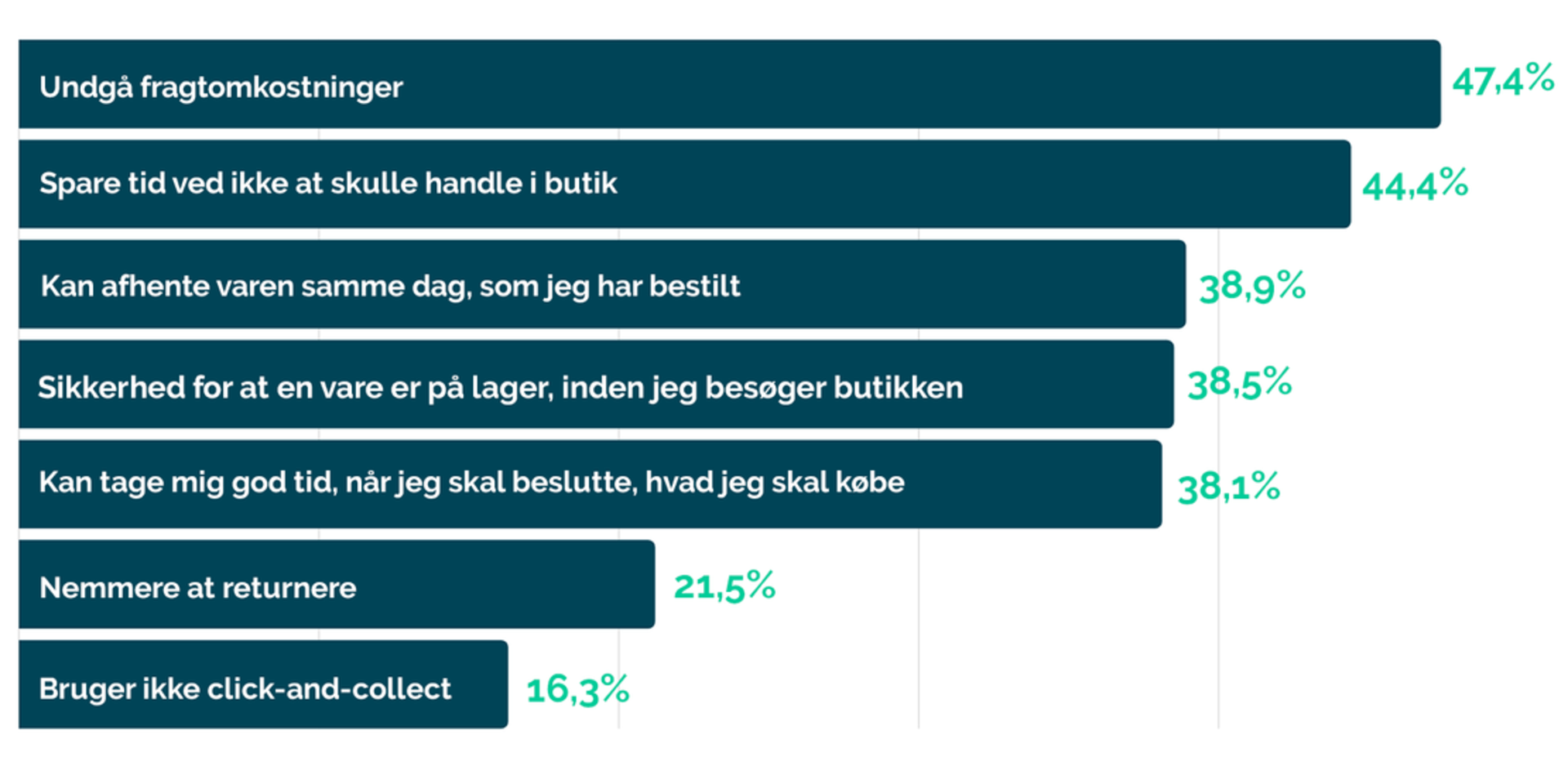 Delivery by drones or robots is not just around the corner for the majority of consumers. Many countries have special rules for flying with drones, and as both positive and negative experiences with drones are amassed, new, sharpened rules are being introduced – both in relation to traffic and logistics and to respect for privacy. Nevertheless Chinese JD.com, in collaboration with the China Siyuan Clinic, is already using drones to deliver medicine to people who live in less accessible areas (see more in the film).
Amazon has recently announced that it will soon be able to deliver smaller parcels via drones, while Alphabet has started making drone deliveries in Australia's more remote regions.

Delivery with robots is also being tested, with varying degrees of success. But once the technical and human obstacles have been removed, we will certainly be seeing more drone and robot deliveries.
Same day/next day delivery
Many consumers like being able to have the goods on the same day as they ordered them. Quick delivery has therefore become a Key Success Factor for many e-traders. Almost 24% of online customers believe that same day delivery is important – particularly among the younger generations, Millennials and Generation Xers, who were born into the digitalised age.

Same day and next day delivery are nothing new in themselves, as many carriers offer the service and have done so for many years. The art is being able to offer the service in a service-minded and an economically efficient way. Danish logistics company Burd Delivery manages to offer same day and next day deliveries to consumers at competitive prices and has already amassed plenty of positive experiences for its customers.
Jakob Kristiansen, co-founder and CEO of Burd Delivery, elaborates:
"In our experience, when we offer our customers same day or next day delivery, their retail conversion rates and Net Promoter Scores increase significantly. This is fantastic for customer loyalty, and this applies regardless of whether you belong to the younger or older consumer segment. It's not only about delivering quickly, however: it's also about making it a positive experience. Peace of mind, trust and communication are the code words here, which is why we give the end customer the opportunity to see pictures of the delivery person that will be knocking on their door, the ability to follow the delivery via our app, regular notifications about the delivery time, and the chance to communicate with the delivery person if they know, for example, that they are unable to be home at the agreed time."​​​​​​​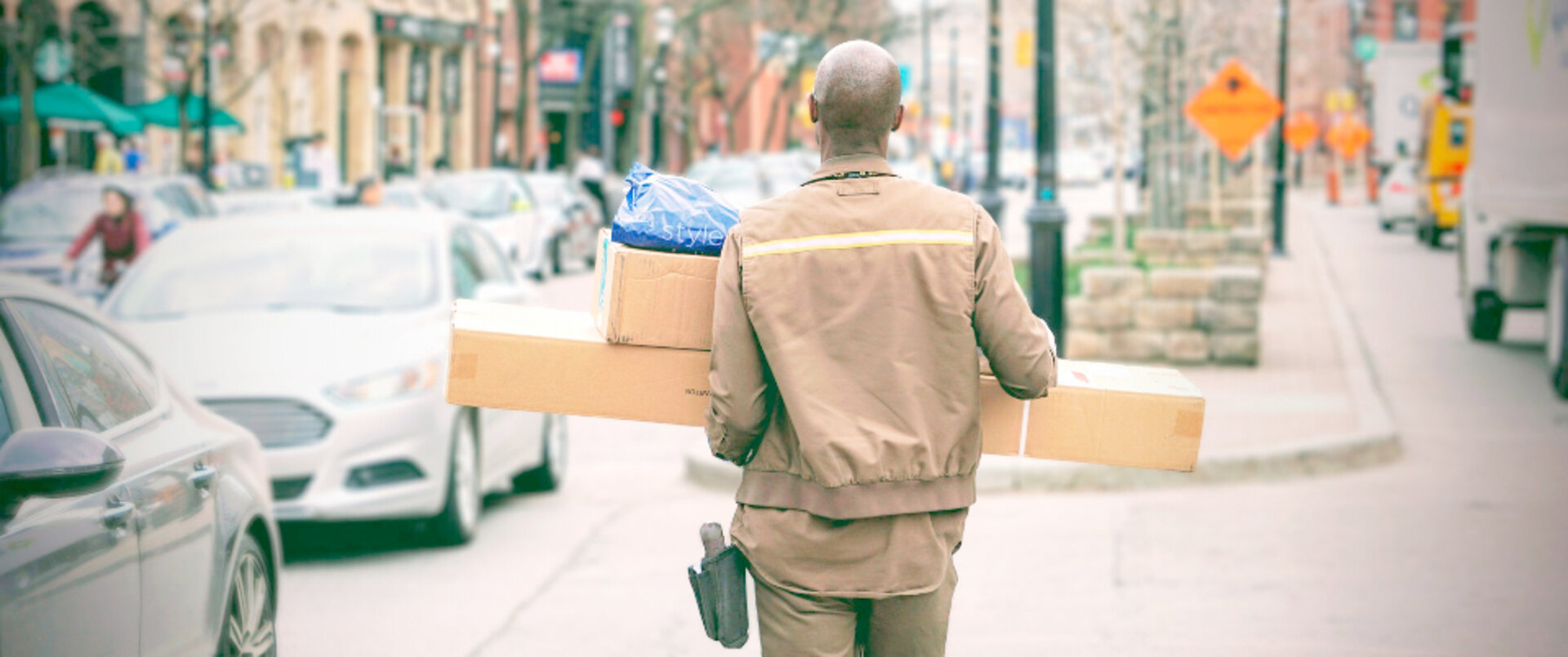 Next day delivery has long been an option in the B2B segment, as it can cost manufacturing companies dearly if they are missing components or spare parts.

The international cooling solutions company Nissens is an excellent example of a B2B business that has organised its delivery terms into a system that is an important service parameter for its customers. Nissens guarantees delivery within 24 hours across all of Europe for all of its 10,000 products.
The global logistics of its online store offers the customers the option of deciding themselves which country and region they would like their products delivered from. Naturally, this choice influences the price and delivery time. This means that in urgent cases and for a specific price,Nissens' customers can be assured of receiving the parts they are missing within 24 hours. On the other hand, they can achieve good discounts on normal orders if, for example, they order from Nissens' central warehouse, from where delivery times are slightly longer but prices lower.
Personalisation is another trend that is on the horizon for deliveries. By using geoplacing the customer can obtain information on which delivery options are available in relation to their geographic location.

For example, that the product can be delivered before 3 p.m. the next day if the order is placed no later than 12.45 the same day. Once the ordering time has passed and the order has not yet been made, the delivery time will change correspondingly.
It is a feature that can offer advantages for both e-trader and customer.

For the e-trader it can offer an increased conversion rate, because the customer makes the purchasing decision quicker, while the customer may experience being able to see the actual delivery time as an improved service.
As everyone knows, customers are all different and have different needs, which makes being able to choose delivery and return options suited to those needs an important competitive parameter.

Can you imagine your purchase being delivered directly into your fridge, for example? A delivery method that for some people would be a huge help in a hectic working week, while for others it would be a complete transgression of their personal boundaries. It could well be the next step, however. In the first instance, most consumers opt simply to grant access to their garages. HomyHubs is shortly to launch an app where customers can give carriers access to their garage when goods need to be delivered.

Many supermarkets that also sell online offer both traditional delivery at home to the customer or the option to pick up the pre-packed items at the supermarket at a time of the customer's own choosing.


Wupti, Denmark's largest marketplace, offers its customers a wide range of options when it comes to the choice of delivery method, from delivery on the kerbside free of charge to a full package comprising delivery, set-up, installation and disposal of packaging.

The price of the delivery type naturally depends on the selected service level, but, for example, if a customer who lives in a second-floor apartment without a car buys a new fridge, the large parcel will not be seen as expensive but more as a huge relief and offer of service.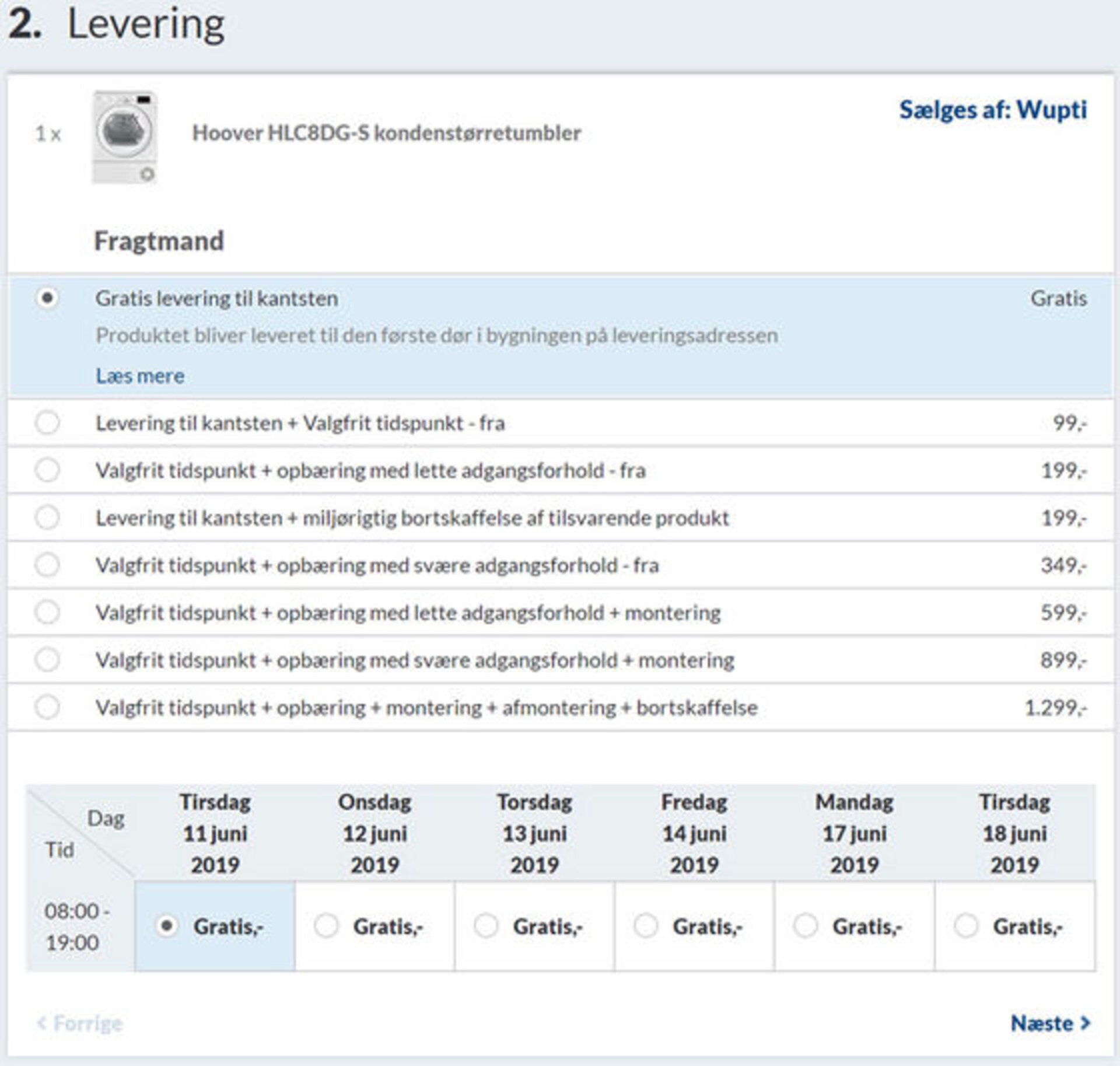 Are we creating a monster?
The list of delivery and return options in this article is not exhaustive and new possibilities are being introduced all the time. Yet despite the new, innovative solutions contributing positively to the developments in online shopping, meaning less 'hassle' for customers and also optimising the interplay between online and offline, they are also challenging the retail and e-commerce trade – as when new standards are set for consumers, expectations increase accordingly: they want more!

Almost 30% of all products that are bought online are subsequently returned – compared to around 9% of items purchased in physical stores. The term 'serial returners' has been coined to describe consumers that are always purchasing more items than they can use and returning the excess ones. A survey undertaken by Salecycle showed among other things that:
Around 30% of the online shoppers who were asked responded that they always order more items than they need and subsequently return the unwanted products.


Around 19% of the online shoppers admitted that they often buy several examples of the same product (e.g. different sizes/colours), try them and then return the rejected items.
In 2018, Amazon announced that it would be introducing a lifetime ban for 'serial returners' and there is no doubt that many returns place pressure on e-traders' profit margins. As the surveys also show that the fact that upwards of 67% of consumers always check the return policy before making a purchase makes this an important sales parameter. E-traders that also own physical stores thus achieve a big advantage, as upwards of 63% of consumers say they are much more willing to shop online if they can return items to a physical store.

More and speedier deliveries is a theme that has both a bright and a dark side. Large online retailers such as Zalando have thus started charging for orders under a certain amount. Retailers use customer clubs to ensure that only the loyal customers receive the best terms and conditions. In Sweden, the government has established an investigation into how the rise in e-commerce is affecting the environment in the form of increased transport.

​​​​​​​There are still many fantastic opportunities for challenging competitors, pleasing current customers and attracting new ones by considering delivery and return policies innovatively and creatively.
Questions?




Our team is ready to help