Sustainable with PIM & DAM
Sustainability has become one of the most important areas of focus. Especially in the construction industry, where new legal requirements are added all the time. Over the past year, this has been one of the challenges of Danish builders' merchant Davidsen Tømmerhandel. They needed to provide better documentation and a better basis for calculation to their customers. They have done that – and more. They offer a completely new service that makes things easy and fast for their customers. The solution has been quick to build and implement thanks to Bizzkit PIM and DAM.
The problem was a lack of overview
The fundamental need for Davidsen's customers is that they need the necessary information and documentation for individual materials. Today, demands are made for lifecycle analyses and CO2 calculations for new buildings. This is in addition to many other documents related to building materials: Safety sheets, assembly instructions and certificates. For example, a Troldtekt panel has 19 different documents attached to it. Therefore, finding the exact document you need quickly becomes an unmanageable task. And it only gets more confusing when you need to obtain documentation for all materials for an entire house.
Only the information you need
All product information is available on each product page, but it is cumbersome and time-consuming to retrieve the documents individually. That is why we helped Davidsen create a solution that made it easy for B2B customers to get exactly what they needed. A carpenter can, for example, make an order for all materials to be used for a new standard house. These include four different types of wood, insulation material, doors, windows and so on. All the materials have associated statutory documents, instructions for use and declarations. But the carpenter only needs the sustainability certifications. He can therefore choose to only download these, using just a few clicks directly on the order page.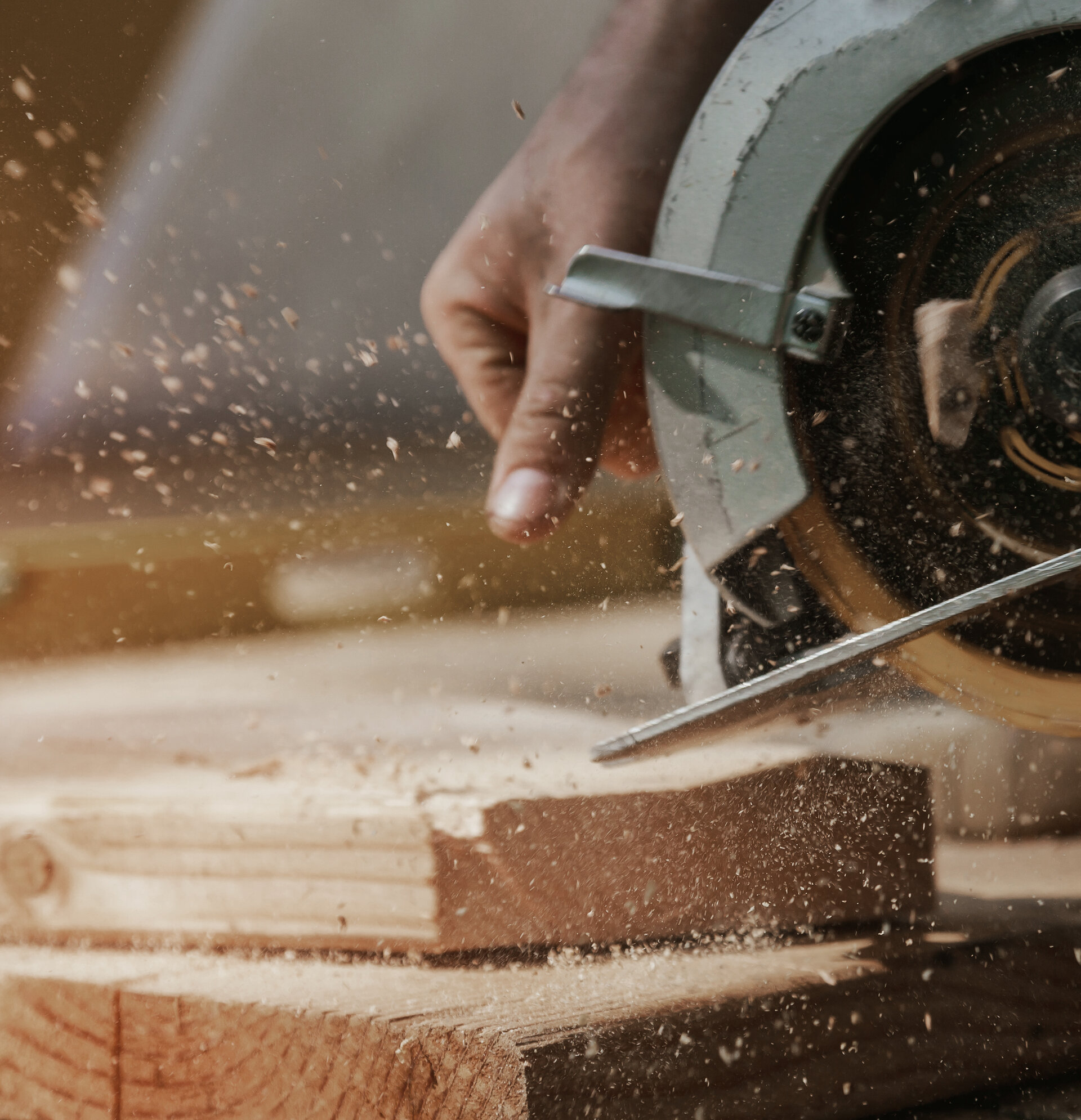 Easy to build on a solid foundation
New solutions can often take a long time to implement, as they require the right data structures. Here, however, Davidsen stood on a strong platform, as their documents were already handled by their PIM and DAM systems. The alpha and omega of the solution is that the documents are subdivided in the right way so that you only get the sustainability certificates when they are what you actually need. The documents were already clearly divided into different product data categories, and it was therefore quick to adapt the systems so that the downloads could be merged into categories.Thus, Davidsen was soon ready to comply with the new legislation – and more, because they could offer their customers a valuable tool that eases their administrative work.
Freedom of choice is the ultimate service
The most important thing for Davidsen was to make document management a service that made the work of customers easier. This required the solution to fit a number of different stages in the projects and their sizes. It is therefore possible to retrieve the documents for quotes, orders, partial deliveries and projects. It is also possible for a carpenter to send the documents directly to, for example, a design engineer or client immediately. The solution is always available and is suitable for both contractors building entire residential areas and individual carpenters buying materials for a bicycle shed.
Construction projects often take a long time from plans being drawn up to buildings actually starting to appear. This means that legislation and documentation requirements change in the meantime. The legislation and certificates in force at the time the building permit is granted apply, which is why those documents must also be available during the construction period. Of course, Davidsen continuously update their documents to the latest specifications on their webshop, but once you have created a quote, an order or a project on Davidsen.dk, the documents will be timestamped so that you can retrieve the correct documents at any time. This makes it easy to always find correct information that matches the right time periods.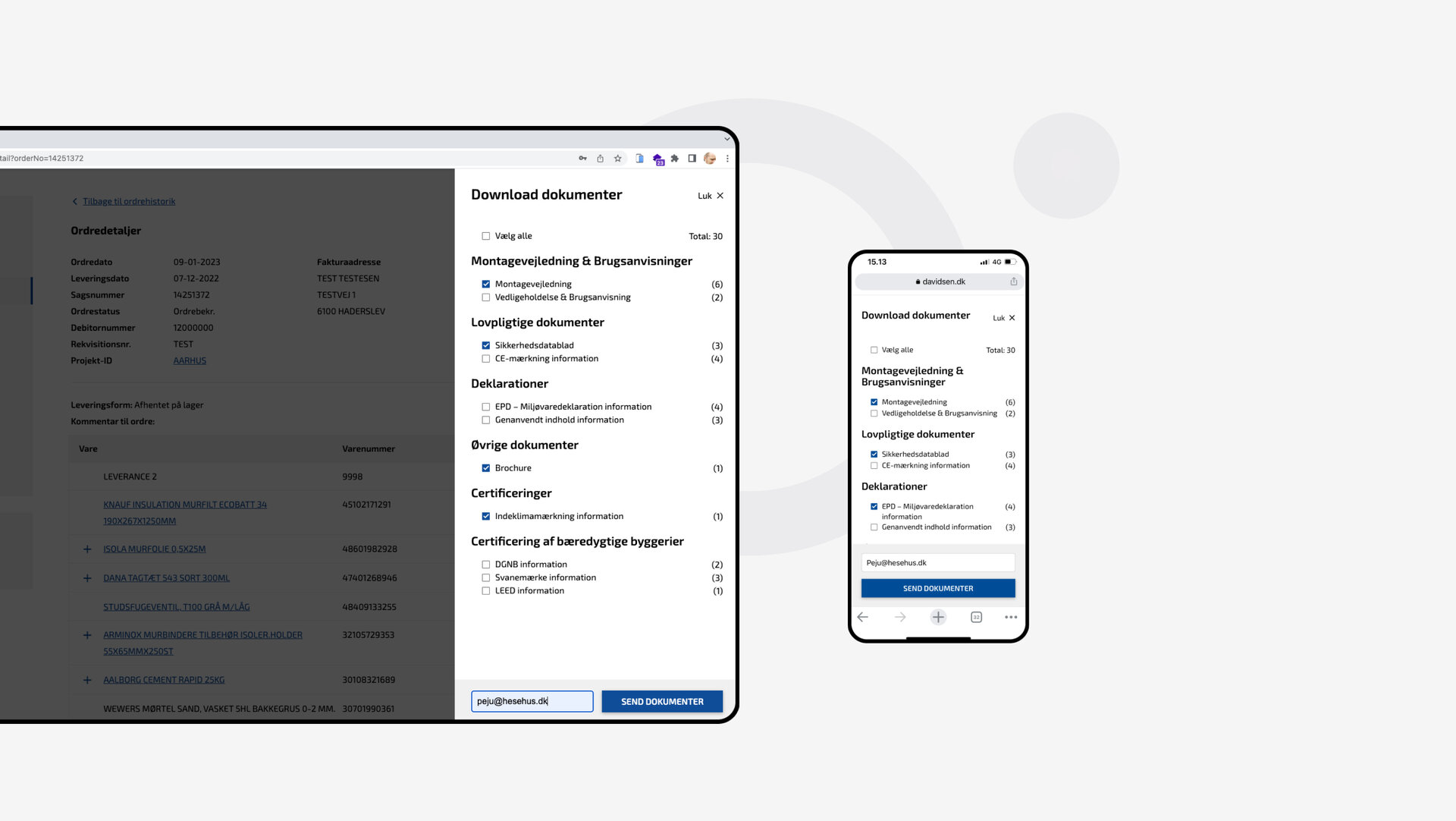 Impact of Davidsen's sustainability solution
All relevant information can be retrieved across projects, orders and quotes
Simple, additional layer on existing Bizzkit PIM and DAM
Self-service features that suit customers regardless of their size
Timestamping of documents
Rapid adaptation to new legislation with extensive documentation requirements
You can read about Davidsen's platform, which enables the rapid sustainability initiatives, right here.
If you would like to read more about Davidsen's solution and see it in action, you can see much more on their own site right here.
Questions?




Our team is ready to help